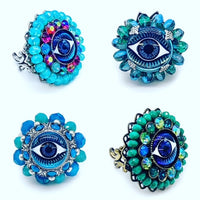 Shop Our Evil Eye Products
Our new Evil Eye jewelry is colorful and fun as well as known to protect the wearer from the power of evil and a symbol for good fortune.
Shop Now
Mary DeMarco
Since 1986, Mary DeMarco along with husband, Buddy Wolfe, has been handcrafting the La Contessa line of nature-inspired, pewter jewelry and gifts. Mary draws her inspiration from her Italian heritage (la contessa means "the countess" in Italian), love of antiques and anything vintage, travels abroad, and time spent in her garden. 

After graduating from Towson State University in Baltimore with a degree in fine arts and studying in Florence, Italy, Mary started her business. "We are a family owned business," said Mary. "Our adult children, Maria, Elle, and Marc, often help with set up,sales at national art shows, and website management.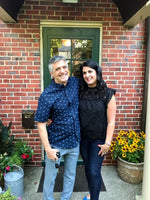 About Us
La Contessa by Mary DeMarco
Each La Contessa design is completely handcrafted in the studio. First, a model is sculpted and then casted in pewter. The various pieces are then soldered and finished to create a multilayered, naturelike appearance. Semiprecious stones such as Carnelian, Desert Jasper, and Mojave Green Turquoise and Austrian crystals are used to create unique and beautiful combination of colors. Much attention is paid to detail— turn a piece over and you'll find a bee, a bird, or a flower or perhaps a pair of hands or a bird in a nest as the closure on a necklace. All of these original features distinguish La Contessa in the marketplace, and the designs are often considered timeless collectibles for many customers.

"At La Contessa, we pride ourselves on American made and being a locally owned business," said Mary. "And we love to give back to the community." We were recently host for a jewelry-making party for the Creative Alliance and we continuously donate our work to local charities for their fundraisers. With so many jobs lost to overseas companies, we can say we are still doing it here, in the U.S., with pride."